all  about me
Personal Notes from the Recent Past
NOW NEW:


CD "

Poulenc – Sonatas with piano

"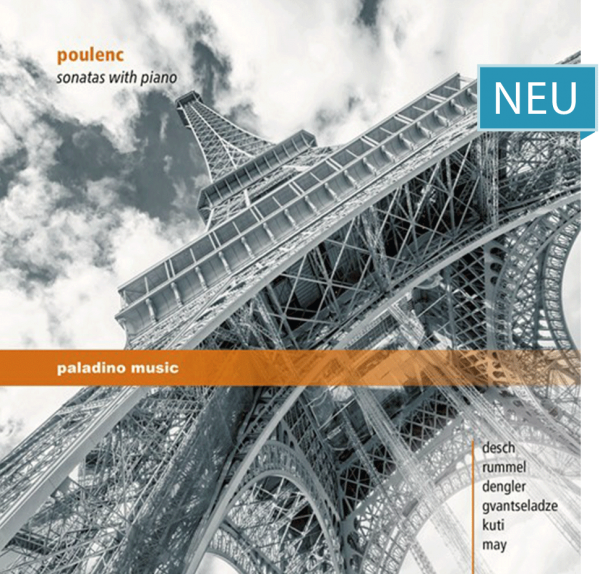 The CD is available on the market and can also be directly ordered at E.M.May, 80538 Munich, Bruderstr. 10
Go to the new CD
Double-CD "Babar"
Music by Francis Poulenc | Text by Jean de Brunhoff
The Story of Babar, the little Elephant, mirrors Poulenc's own vita: the lost paradise of his childhood through the loss of his parents – for Babar it's his longing for the jungle – Poulenc's own success story – the coronation of Babar – his 'joie de vivre' – always before the backdrop of idealized love!
"My Music is my portrait." (Francis Poulenc, 1963)
At the end of the musical tale the reveries of King Babar and his Queen Celeste reach for the stars in melancholic solemnity anticipating to age in harmony. The narration of Babar's story is to be heard on the CD in German, English and French.
The CD "Babar" is available on the market and can also be directly ordered at E.M.May, 80538 Munich, Bruderstr. 10
Go to the CD
Recording of the month
"… Collectively and individually it would be hard to imagine finer exponents of this marvellous music. Wiese, Lessing, Wienand and May provide sensitively characterised performances. Recorded at three locations under studio conditions the engineering team maintains a consistently high level of sound quality: vividly clear and well balanced. Lovers of French music will relish this beautifully produced release."
View original article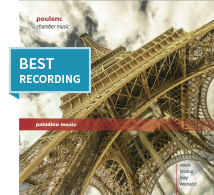 French Enchantment
"This Poulenc recording presents chamber music in its manifold expressions. The faceted richness of the performance here cannot be surpassed. To experience Francis Poulencs Sonata for two Pianos played by Eva-Maria May and Alexander Wienand is an adventure in itself. As on a journey we encounter many different landscapes, contrasting moods, experience motion, hectic acceleration, dive into quietude, partake in magnificent visions. The musicians melt together into one great whole. The unique harmonics provide a sharpness of dissonances, polytonalities, popular expressions and clichéd phrases. In every situation the musians allow the rich harmonies enough time to unfold themselves. They celebrate the quietness and transform nona chords, like the simple C-major triad into exhilarating beauty. The instrumentalists play music with an exuberant love for life, daring wit and all the way to cool aloofness. Lovers of French music will experience sonatas by Francis Poulenc on the highest possible level."
View original article
Personal Notes from the Recent Past
Fascinated by the richness of color and brilliance of his solo and chamber music compositions, Eva-Maria May has in the past few years added works by the composer Francis Poulenc (1899-1963) to her recital program. Not without reason Arthur Rubinstein and Vladimir Horowitz had already in the 1920's been sustainably engaged promoting Francis Poulenc.
In collaboration with the Viennese Label "Paladino" a CD came out 2015 exclusively with works of the French composer.
Shortly after its appearance this CD was awarded "Recording of the Month" by musicweb international ("poulenc chamber music" paladino music can be ordered online or by mail directly at E.M. May / 80538 Munich / Bruderstr. 10) (Original article). En Français.
Soon a new CD with Poulenc's musical fairy tale "Babar" will appear at Paladino with the text read in German, French and English.
2010
Dr. Cathrin Klingsöhr-Leroy, director of the Franz Marc Museum in Kochel in southern Bavaria, has housed around 20 concerts since 2010 in the context of various museum and gallery openings. Here one could hear E.M. May performing works ranging from J.S. Bach to J. Cage.
Since 2005
With the painter and photographer Louis Soltmann music collages (Lapilli 5) were produced, that were to be heard and seen in Duisburg, Cologne and on Lanzarote.